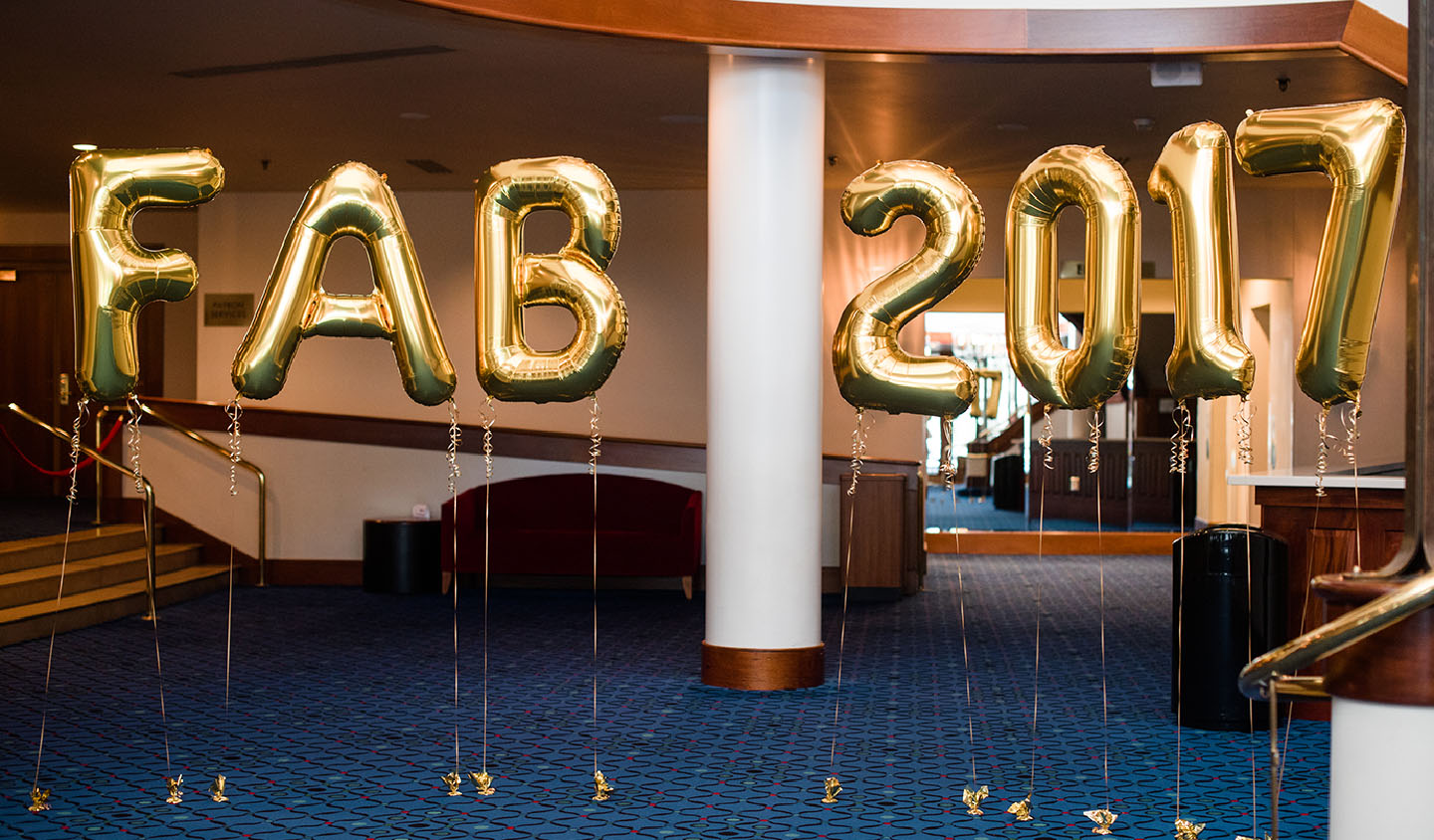 This year marked the 14th annual FAB Awards, hosted for the first time at the Ordway Center for the Performing Arts. Every year the FAB Awards honors "Fresh, Artistic and Brilliant" interior design solutions and brings together professionals from all areas of the community to celebrate excellence in design. The event was full to the brim with laughter, conversation, and as it will now be known, a social "drinking session". As was said at a few points in the evening, we know how to have a good time. A group of colorful presenters, sponsors, and our incredible emcee Scott Hierlinger kept the laughter going throughout the evening as we "oohed" and "aahed" over the spaces and buildings that were presented awards. These projects show us the true talent and value of the interior design profession in creating usable, healthy, and safe spaces within a building while also producing something beautiful. The critical thought on function and human behavior that was evident in the execution of these projects was truly astounding. We are proud to be a part of the community of the IIDA Northland Chapter that is committed to quality design solutions, and are thrilled to present again the winners of this years FAB Awards.
Grand Award
Studio IDS – Perkins+Will
studioIDS is the new workplace for an interdisciplinary design firm in the iconic 1973 IDS Center. They saw their relocation as an opportunity to craft a playful work in-progress; a constantly evolving maker-space for sharing work and testing new ideas. Challenging conventional workplace models, this project set out to do more with less – less space, less walls, less fixed furniture, less energy use, less material, no assigned seating – seeking a designed rawness that supports individual choice, creativity, and collaboration. Focused on employee wellness, the design optimizes material health – being Fitwel Certified and pursuing LEED CI Platinum and Living Building Challenge Material Petal Certifications – utilizing "Red List" free materials only.
Community & Civic
Temple Israel, Expansion and Renovation – HGA Architects and Engineers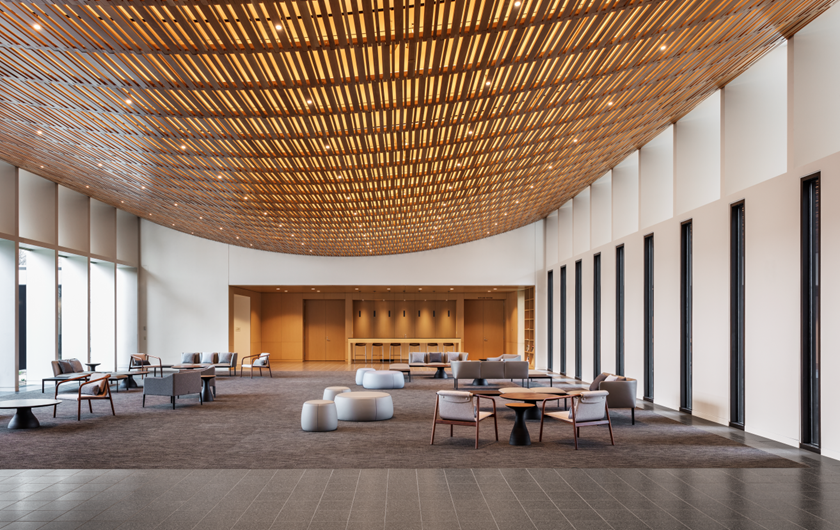 Temple Israel, the first synagogue established in Minneapolis, is an urban congregation serving a diverse community of nearly 2,200 households in the Twin Cities metro.
This 33,260 SF project included a 27,260 SF expansion with a lobby and event space, a 5,810 SF courtyard, a re-imagined Early Childhood Center (ECC) and new religious education classrooms for grades 1-12.
Reggio Emilia, the teaching theory used in ECC, served as the design concept that unifies the space through principles of transparency, flexibility and Bella Figura, a philosophy of beauty emphasizing natural light, tactile materials and order. The physical environment becomes the third teacher, joining the instructor and child to create a holistic atmosphere of learning.
Education
Wooddale Church – MSR Design
In response to the church's goal to grow membership, this renovation transforms cloistered and dark conference rooms into a bright, energetic youth ministry space and welcoming café for the community. Flexible furniture, storage, and breakout elements enable educational spaces to be reconfigured as needed. The design's abstract forest theme complements the ministry's "Woods Kids" youth program. Featuring child-scaled custom furnishings, the reinvigorated entrance creates a strong first impression for potential members. Meanwhile, the café serves as a bridge between the secular and sacred, inviting community members of all ages to mingle in a comfortable setting.  These areas contrast with reflective spaces, which are characterized by subdued colors and lighting to facilitate prayer and serenity.
Healthcare
Prairie Parkway Ambulatory Care Center – HGA Architects and Engineers
Prairie Parkway Ambulatory Care Center transforms a large program into an intimately scaled, community-focused medical office building on a 20-acre mixed-use site outside Waterloo, Iowa. The 90,000 SF, three-story building offers a full-range of outpatient preventive health services within a familiar prairie-style aesthetic that reflects local architectural forms and materials.
The building successfully integrates program and aesthetics through three design strategies: A repetition of prairie-style windows that unify the common spaces; a connection to nature with expansive windows framing views of the landscaped campus and abundant daylight infusing interior spaces; and finally exterior scale and detailing through local materials, brick piers and deep overhangs, and landscaped patios and walking trails that offer peaceful respite.
Hospitality
Edition Apartments – ESG | Architecture & Design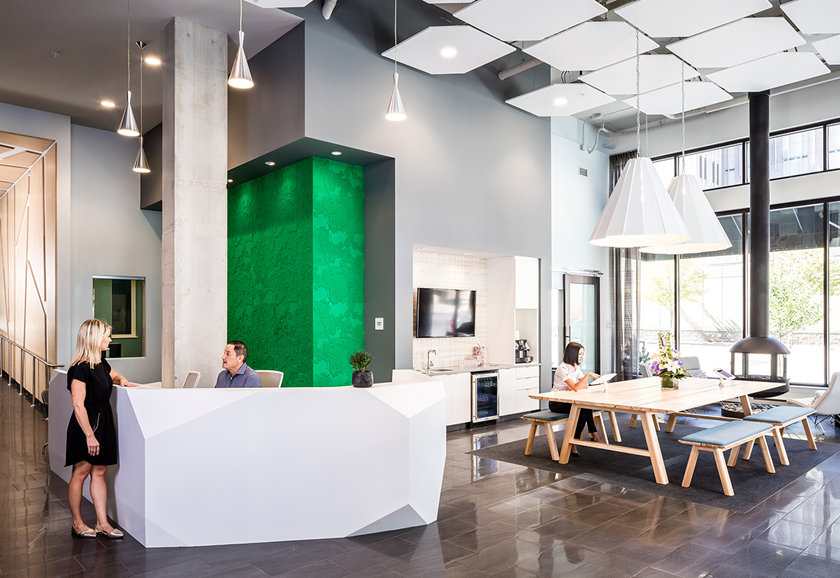 The Excelsior Group partnered with Ryan Companies and Invesco to develop Edition, a 195-unit multifamily apartment building with 25,000 SF of retail space located just west of the new Vikings Stadium. ESG provided interior design for the apartment common spaces, sky lounge and deck.
The intent behind the interior design was to pull influences from the area, primarily The Commons and U.S. Bank Stadium. In the lobby you see a large sculptural desk, which was inspired by the shape and design of the stadium. Several floors above, the clubroom has a more colorful and playful atmosphere inspired from The Commons park. The design throughout seamlessly unifies the outdoors, stadium and luxury living.
Workplace
FLM+/Land O'Lakes – Perkins+Will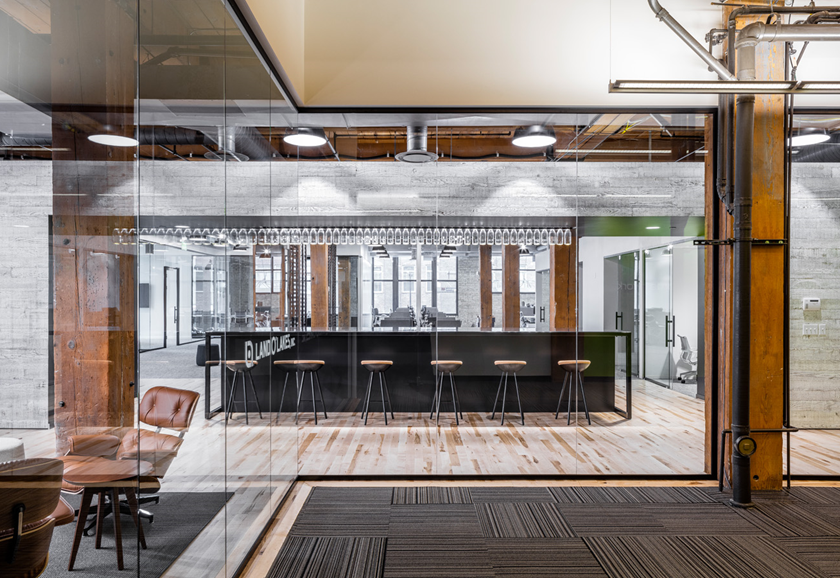 Land O' Lakes (LOL)/FLM+ Downtown is a conference and third work oasis for city-bound employees of LOL co-located with the new office of their recently acquired marketing arm, FLM+.
By weaving a continuous thread of organically populated collaboration spaces through a cultivated series of open workstations, flex offices, hoteling stations, breakout, and meeting rooms the result is an agile work environment able to adapt to a variety of work styles and space needs of both organizations while providing opportunity for future flexibility and connectivity.
Appropriately located in a former John Deere factory built in 1910, both agribusinesses have a common aesthetic blending old world durability and high technological sensibility reflective of modern agriculture while incorporating distinct characteristics of each.
People's Choice
Adventures in Wonderland – IN-Teriors, Inc.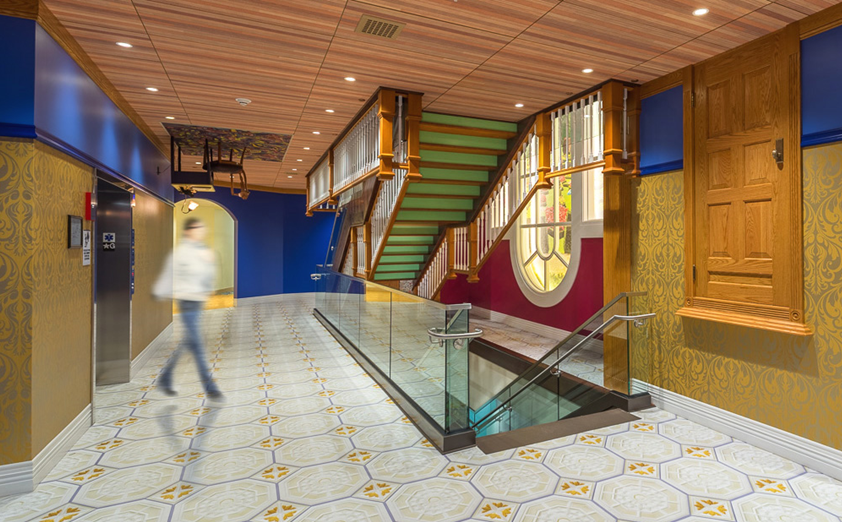 The interior design of this building takes visitors down the rabbit hole of absurdity that is Alice in Wonderland, each wing of the building as incongruent and colorful as the original story.
Hallways are flooded in colorful carpet offset by white walls and brightly colored door frames helping to define "neighborhoods". These neighborhoods become nodes of interest and provide landmarks for giving directions and finding amenities. The focal point of the building is the central feature stair, a Victorian interior installed upside down. 
By embracing the disjointed concepts, each wing of the building has a distinct personality. In true Wonderland fashion, you may not know where you're going, but you know where you've been.
Excellence in Design in Graphics and Branding
Be The Match Headquarters – Perkins+Will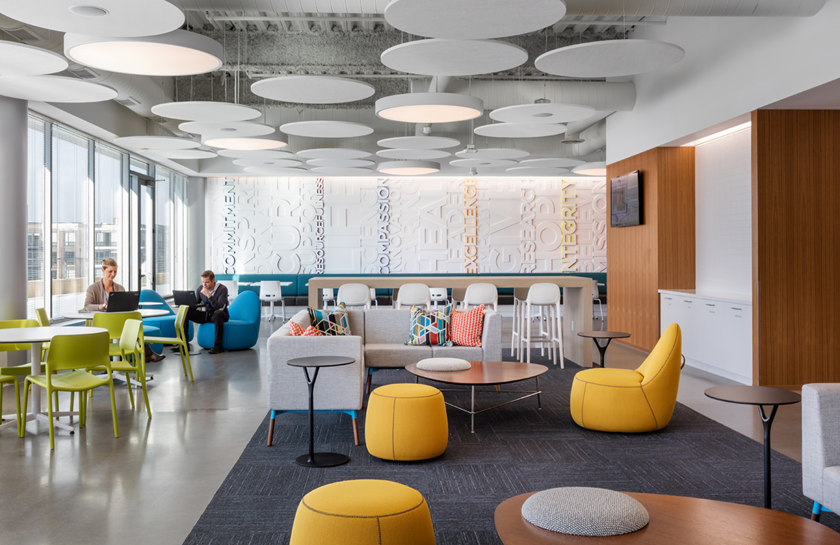 Be The Match's (BTM) new Coordinating Center is a leading edge, flexible workplace demonstrating a commitment to the well-being, productivity, and enrichment of over 1000 employees who work tirelessly to save the lives of others. As Minnesota's single largest non-profit, BTM benefits from an adaptable space that supports talent attraction and retention, increased effectiveness, and the capacity for growth, while embodying their mission and telling the inspiring story of the lives they touch.   
Excellence in Experiential Design
Children's Hospital Pain & Palliative Care Clinic – U+B Architecture & Design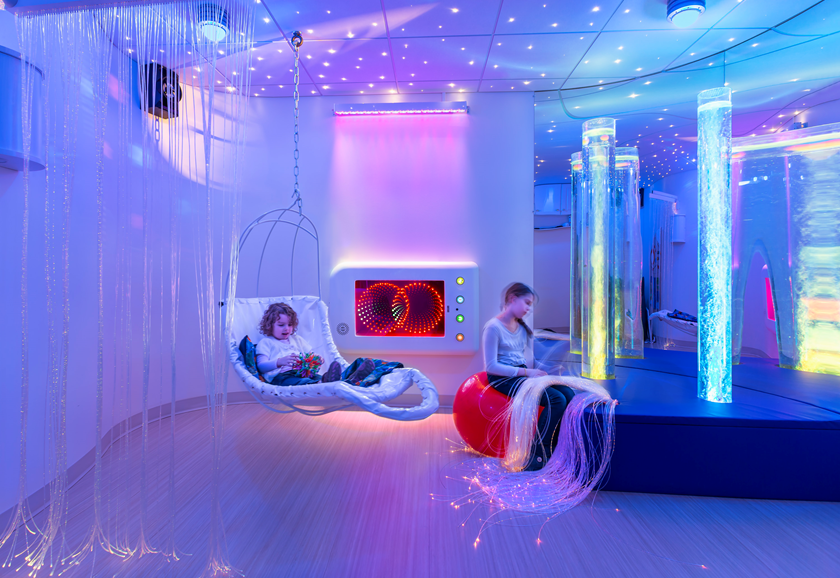 Driven to challenge conventional healthcare design, this state of the art Pediatric Pain and Palliative Care Clinic was designed as a calming and anxiety-reducing 'healing environment' specific to the unique challenges of pediatric pain management.  
The innovative design incorporates natural wood floors and walls, large scale, hyper-clear images of the Minnesota landscape, a suspended canopy ceiling of backlit leaf imagery and an interactive virtual waterfall. The innovative "Snoezelen" Room is a patient-controlled multisensory space filled with various types of lighting, color, sounds and music to soothe the senses and reduce anxiety, pain and stress.
In keeping with the mission of holistic healing and care for the sensitive patrons, all interior materials were chosen for their environmental attributes.
Excellence in Design
Corporate Condominium – U+B Architecture & Design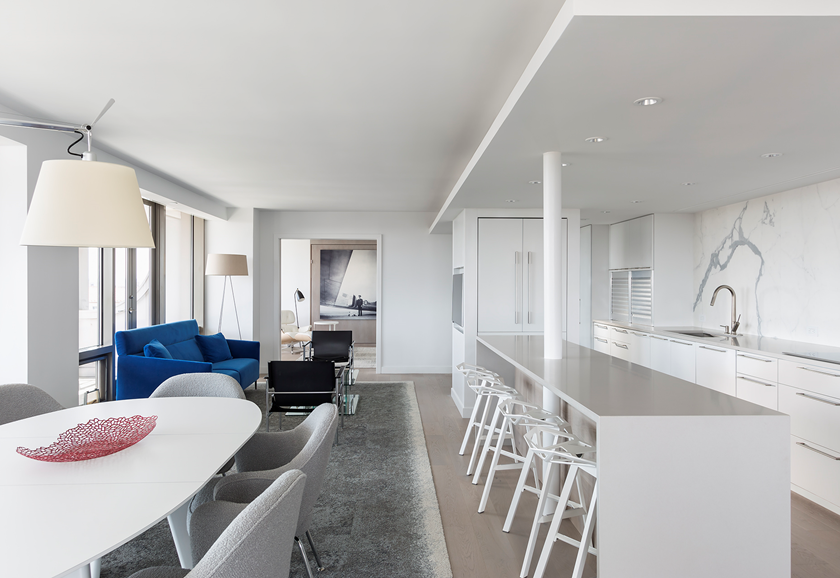 Existing infrastructure, that could not be relocated, coupled with only 8'0" slab to ceiling height delivered an exceptional challenge for this corporate condominium renovation in the heart of Washington DC.  
To maximize ceiling heights, recessed lighting was limited to key areas in kitchen, entry, and bathrooms. Utilities were confined to these lower ceiling areas, while sprinkler lines and heads were incorporated into a perimeter soffit that also provided a pocket for roller shades. The intent was to capitalize on natural light from floor to ceiling windows on two sides by opening up the plan.  A custom murphy bed and double pocket doors allow living space to expand into the second bedroom for corporate events.
NCEF Awards
Mary Brandt
Jonathan Butler-Knutson
NEXT Awards
1ST Place Winner –  Jonathan Butler-Knutson
2ND Place Winner –  Julia Roath
2017 FAB Jurors
Brigitte Preston, Lauckgroup
Francess Bruns, IA Interior Architects
Traci Webster, IIDA, GFF Interiors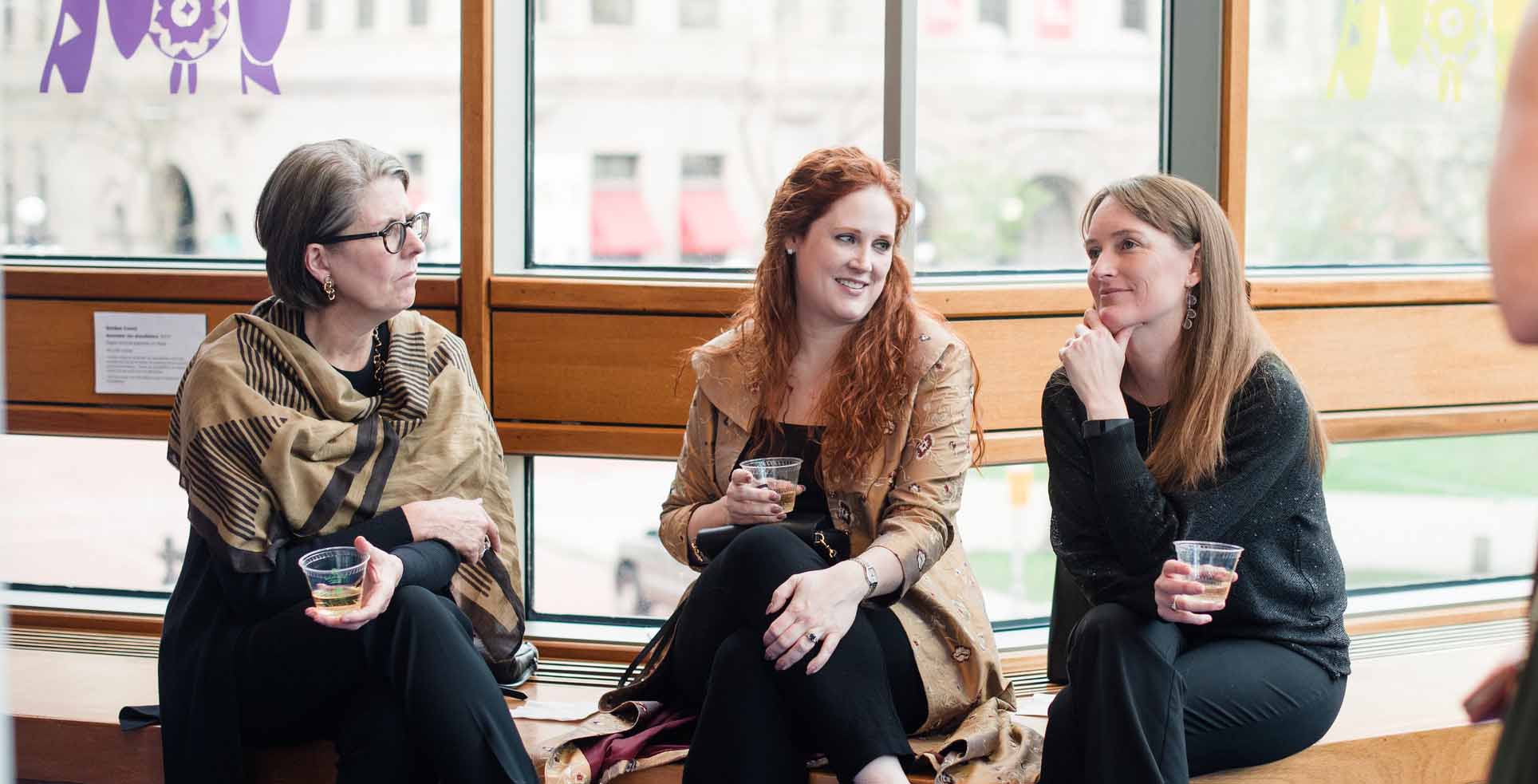 Thank you to our fabulous jurors for sharing their time and expertise, to all of the sponsors that made this event possible, and to all the individuals that participated in any way, whether by showing their support through attendance, volunteering, or sharing their talent in their project submissions.
We look forward to seeing you all again next year!
Emily Degallier – Interior Designer