IIDA Northland Week of Service
IIDA Northland Chapter's Vision event this year is going to look a little different! Our vision and inspiration have changed somewhat since the pandemic. We would like to focus our time and energy this year on how we can help local communities with our time and talent. We are organizing a "Week of Service" on May 1-5 to provide opportunities each day for our design community to give back, help out, and socialize for a worthy cause.  We hope you will join us for one or more events during this "Week of Service"!
Scroll down to see the volunteer project for each day!
Click the register here button if interested in that day.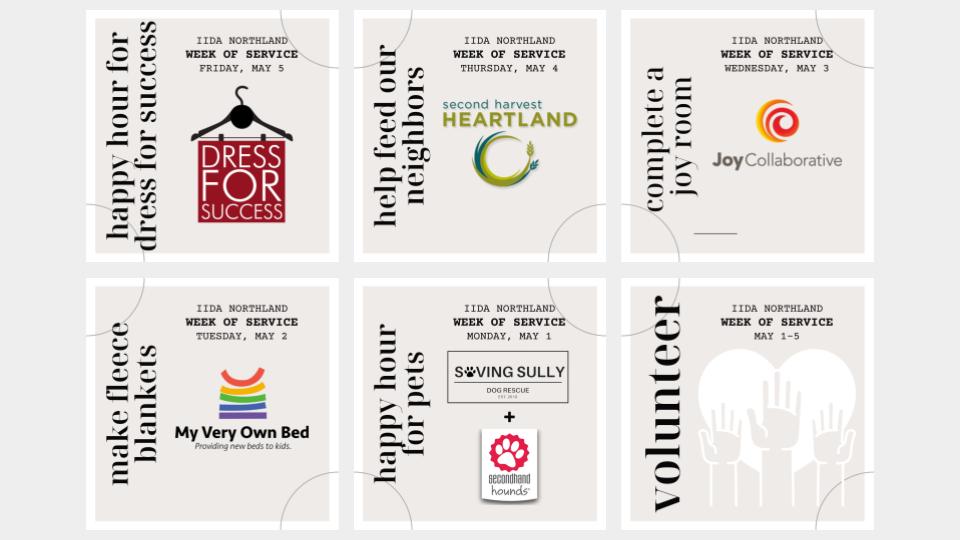 REGISTRATION INFORMATION
Dates:
May 1 -5, 2023
Time and Location:
Each day is different, see details below.
Price:
Volunteer!
Monday, May 1 – Happy Hour for pets – REGISTER HERE!
We know Monday's can be rough, therefore we invite you to kick off IIDA Week of Service with a puppy hour….. we mean happy hour at Bad Weather Brewing on Monday May 1st. Please bring your pup or come as you are. We will be accepting Venmo/cash donations for several preferred charities and items off the pet wish list, in exchange for drink tickets.
Charity: Saving Sully, Secondhand Hounds.
Website: Saving Sully: https://sites.google.com/savingsully.org/officialsavingsully,
Secondhand Hounds: Secondhand Hounds | Animal Rescue | Twin Cities, Minnesota
Location: Bad Weather Brewing (414 7th St W, St Paul, MN 55102)
Time: 4-6pm
Items for volunteers/attendees to bring: Cash, phone for web donations or items from Secondhand Hound Wishlist.
Special instructions: Cash, proof of web donation or items from the wish list are required to receive a drink ticket. 1 ticket per person.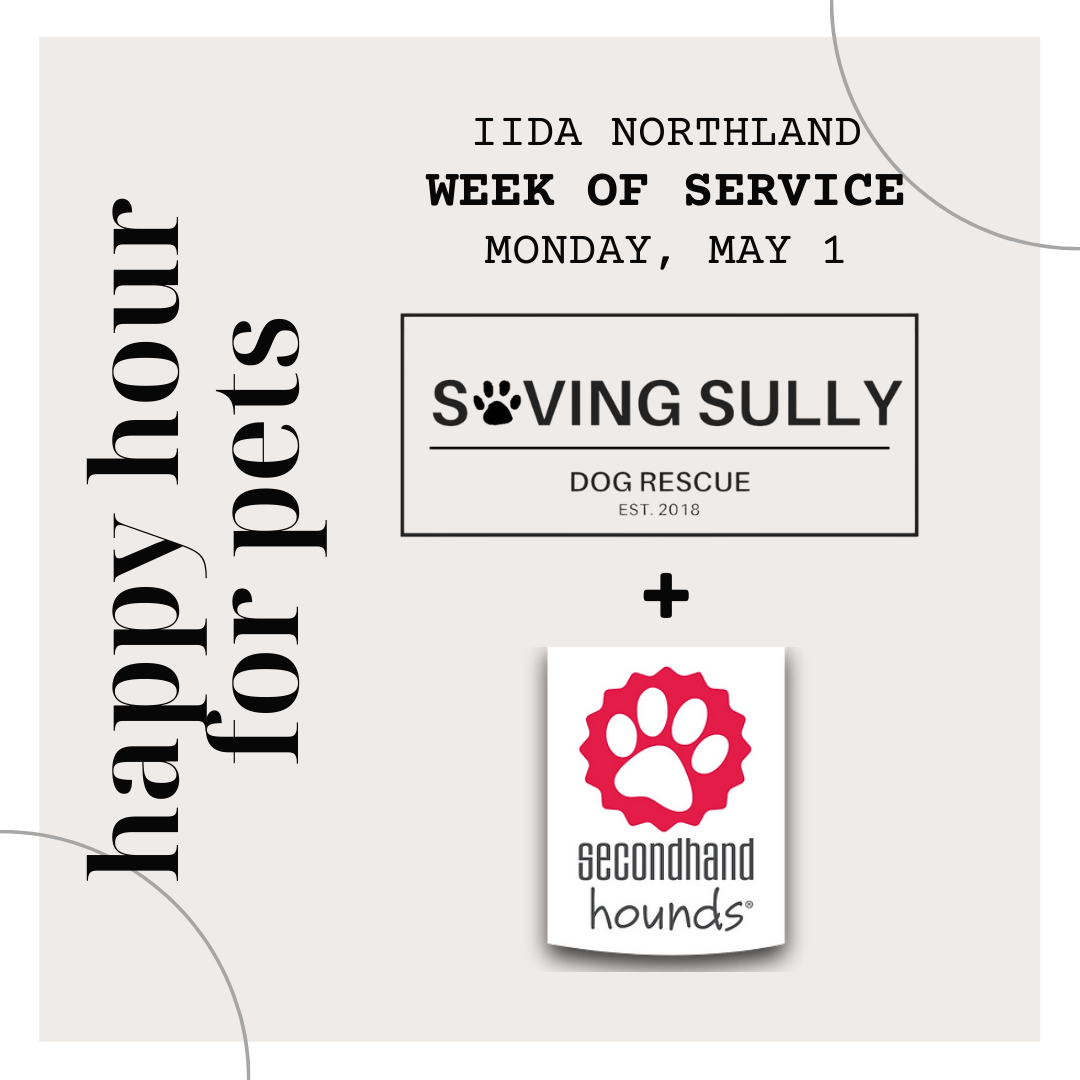 Tuesday, May 2 – Make children's fleece blankets –  REGISTER HERE!
Please come and help make fleece tie blankets to be donated to My Very Own Bed! These blankets will accompany a new, twin-sized bed and other Dream Kit items to make the bed comfortable and personalized to the child. These are tie blankets – no sewing ability needed!
Charity: My Very Own Bed
Website: HOME | myveryownbed
Location: RSP Architects (1220 Marshall St. NE, Minneapolis, MN 55413)
Time: 3:30-5:30pm
Items for volunteers to bring: Please bring scissors that you can use to cut fabric for the blankets. IIDA will supply the fleece. No sewing ability needed.
Special instructions: Snacks and drinks will be served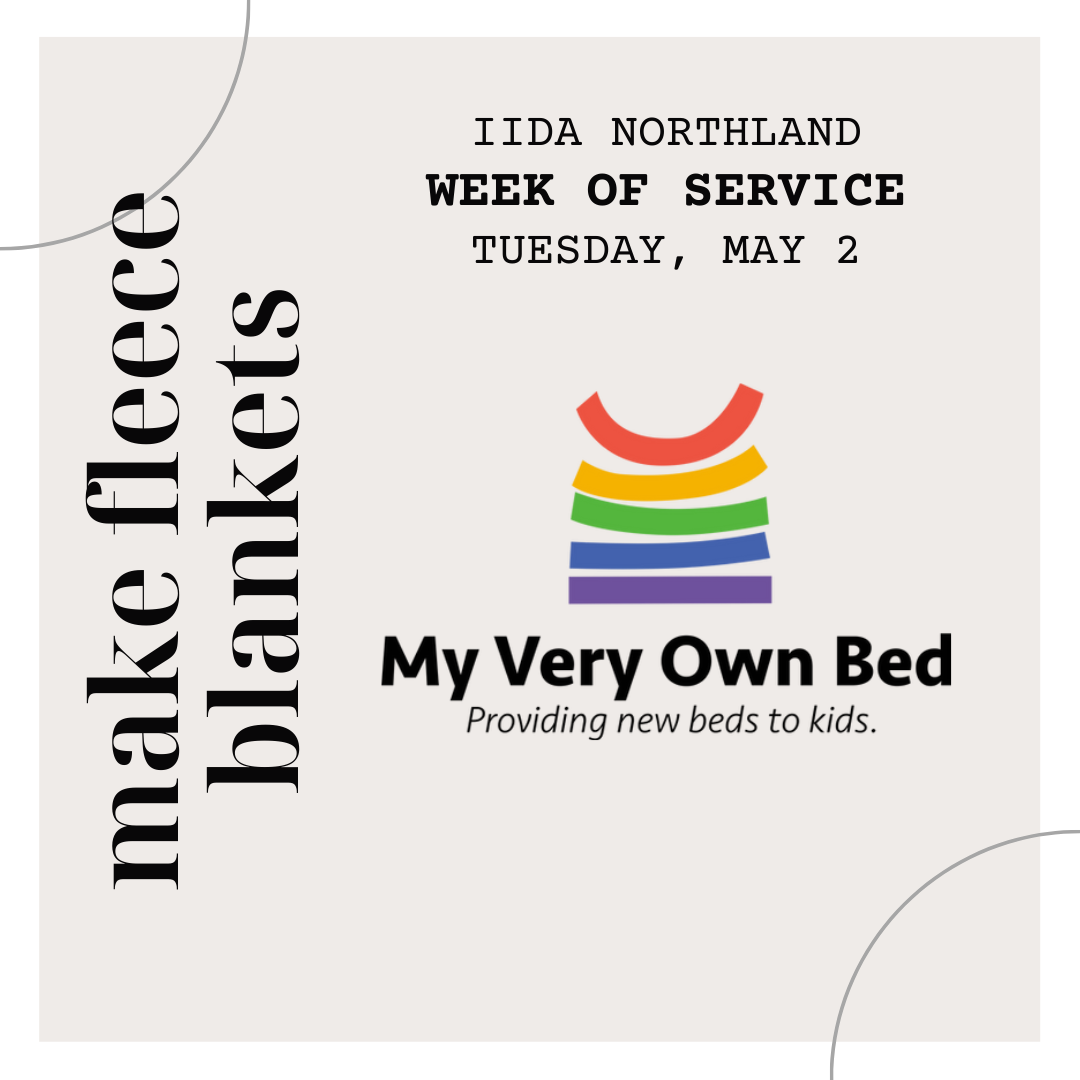 Wednesday, May 3 – Help out Joy Collaborative – REGISTER HERE!
Come help us put some finishing touches on an intake room for one of our Joy Collaborative projects.  You'll be asked to do some simple painting projects as well as other general assembly and organization tasks.  There's an opportunity for any skill level you want to lend! We have various tasks to be completed which include painting, assembly of storage units from IKEA, cleaning storage room and organization, installation of a window shade, and a few more items as needed.
Charity: Joy Collaborative
Location: St. Paul Ramsey County Domestic Abuse Intervention Project (394 Dayton Ave, St Paul, MN 55102)
Time: Arrival between 8:30-9am; finishing up at noon with a celebration lunch with the staff from noon – 1 pm
Items for volunteers to bring: Work gloves, tools, and step stools if possible.
Special instructions: Lunch and beverages will be provided. Dress for a messy project! Looking for a volunteer especially with some prior experience with installation of a shade/privacy film/monitor and bracket. You will be asked to sign a volunteer work waiver. We have limited space available for children to work alongside a parent (ages from 5-10).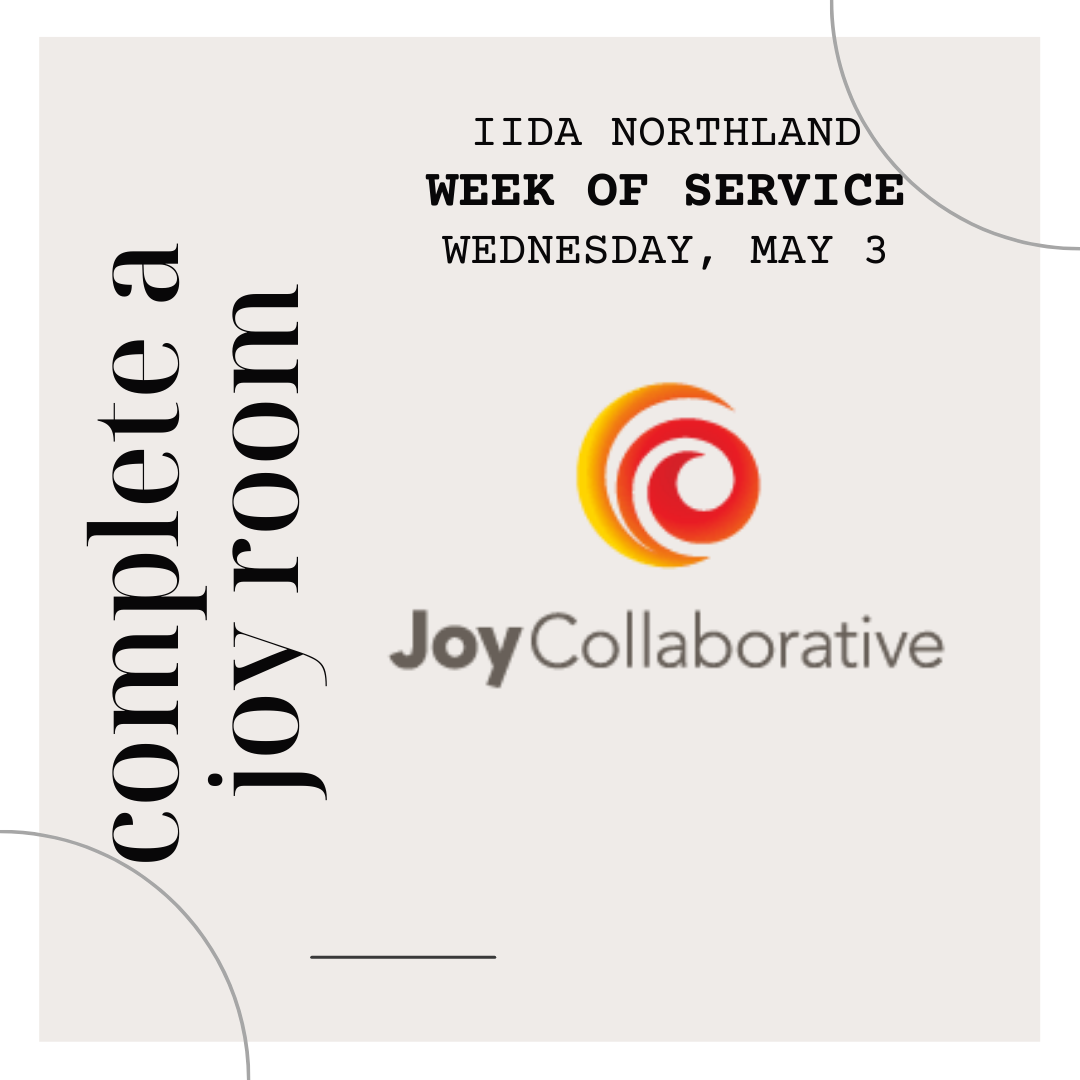 Thursday, May 4 – Pack food for Second Harvest Heartland (2 Shifts to pick from) – REGISTER HERE!
At our Brooklyn Park Facility, volunteers assist with sorting, labeling, weighing and packing various food items to meet immediate needs and help feed our hungry neighbors! The projects vary from day to day and volunteers regularly work with fresh produce, dry goods, bread, and various donations. This volunteer position requires volunteers are able to twist and bend down, stand for the duration of their shift, and lift up to 5 pounds. Some positions require the ability to lift 40 pounds.
Charity: Second Harvest Heartland Food Bank
Location: Second Harvest Heartland (7101 Winnetka N, Brooklyn Park, MN 55428)
Time: 3:30-5pm, 6-8pm (2 different shifts)
Items for volunteers to bring: nothing to bring but please review the dress code.
Dress Code:
Shirts MUST cover the shoulders, armpits, and bellies (no tank tops or crop tops) for food safety purposes.
Closed-toe shoes are required.
All clothing should be appropriate for handling food and not have loose, dangling beads or other articles which can be a physical contaminant.
Comfortable clothing that you don't mind getting dirty is preferred
We suggest you dress in layers to remain comfortable while working as temperature can fluctuate.
No jewelry. When you are in the packing areas, you will be asked to remove all jewelry. Lockers are available on-site to store belongings.
Special instructions: Please arrive 5-10 minutes early for your volunteer shift so we can check you in and start on time! Snacks and beverages will be provided.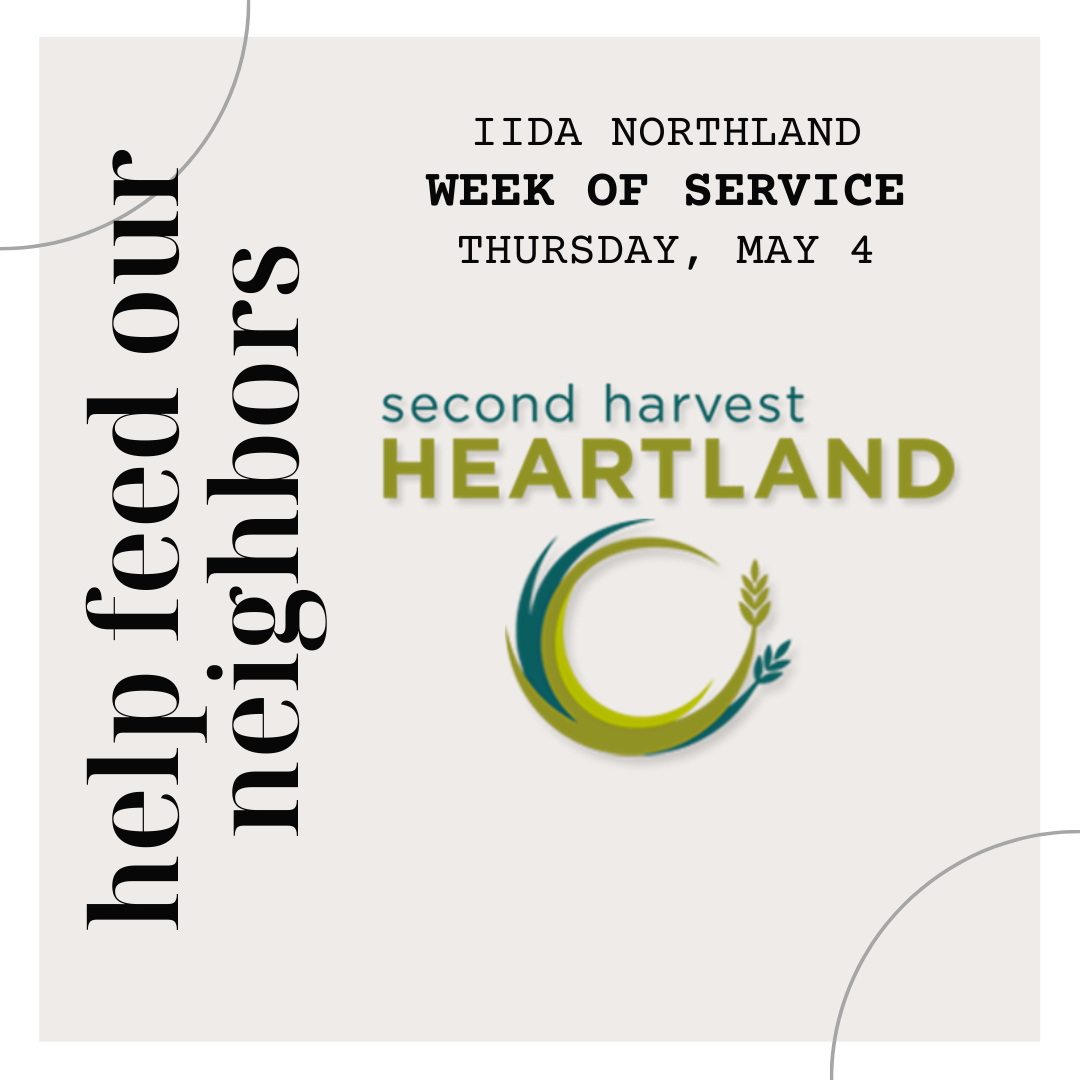 Friday, May 5 – Happy hour for Dress for Success – REIGSTER HERE!
Celebrate the conclusion of our first annual Week of Service with a social gathering in support of a good cause!  Bring a donation of previously-loved women's professional wear (from the list attached) or a financial gift, and raise a glass to a week of hard work and community service.
Charity: Dress for Success
Location: Urban Growler Brewing Company (2325 Endicott Street, St. Paul, MN 55114)
Time: 4-6pm
Items for volunteers/attendees to bring: donation of items (per info from Dress for Success), new items (per info from Dress for Success), donation to Dress for Success (cash on site or via the website)
Special instructions: Donation requirements for used items..
ACCEPTED

Business professional suits
Professional separates including blouses, slacks, skirts, dresses, blazers, sweaters, and jackets
Casual separates including shirts, jeans, dresses, sweaters, and coats
Professional shoes (flats, heels, boots)
Scarves
Handbags
Jewelry
Scrubs
Professional maternity apparel
Non-slip footwear

NOT ACCEPTED

Any items that are stained, torn or in ill repair
Athletic wear or lounge wear
Men's clothing (we only accept women's apparel).
New Items Needed for Donation: Brand new black leggings, socks, underwear, bras, and shapewear.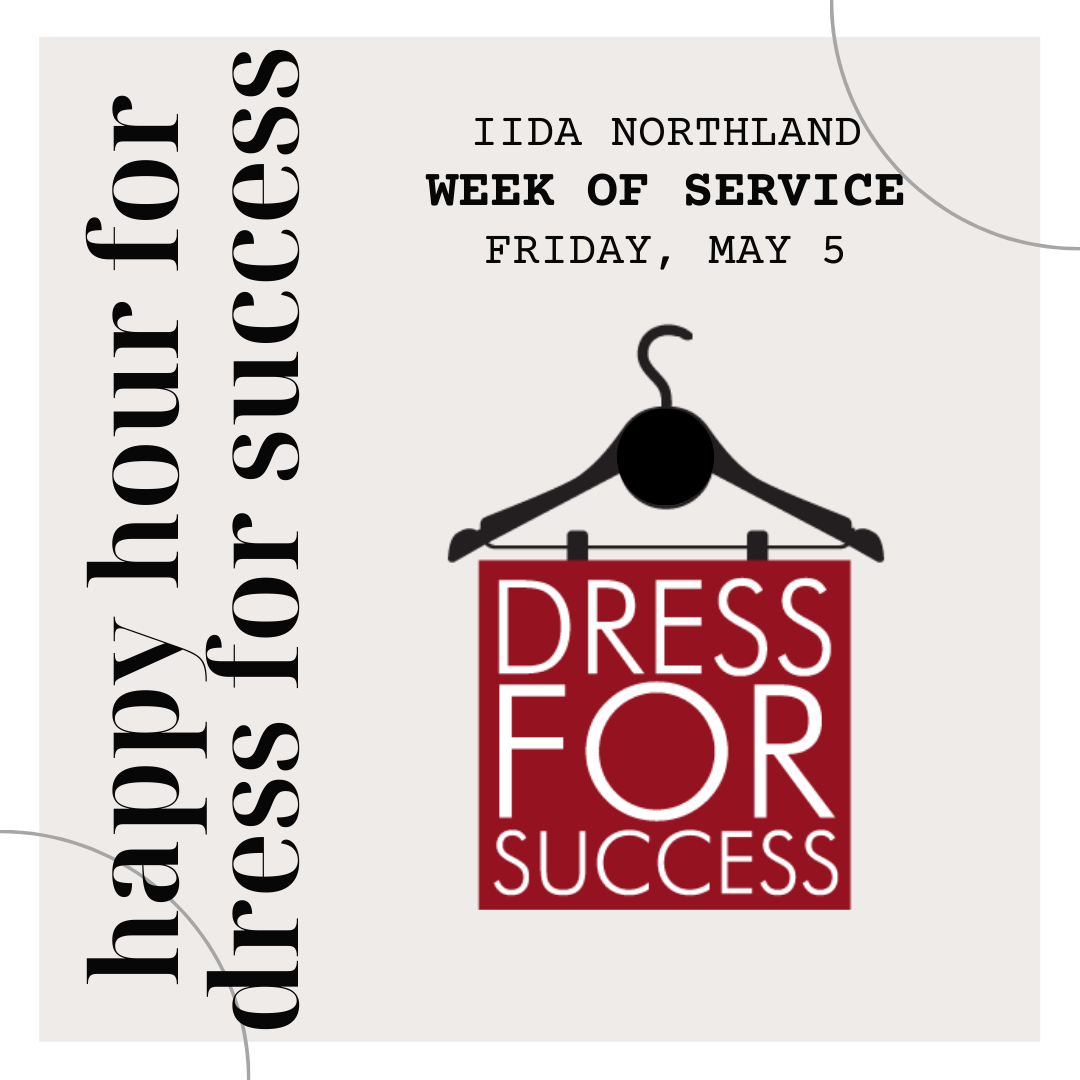 Other Event Details
---
Photography/Video:
Please note: audience photographs and/or video may be taken at this event. By nature of your attendance, you are granting permission for your image, voice, and likeness to be used for marketing purposes. (this one is on the website, but since the newsletter link goes directly to the event registration page – please put it there, too).