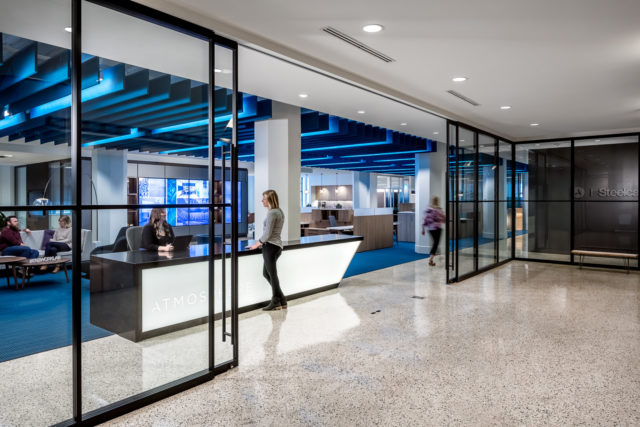 New to the blog? This year we're spotlighting each of our diamond sponsors. We're proud to highlight our first of SIX diamond sponsors for 2018…
Atmosphere Commercial Interiors!
I had the privilege of interviewing some great people at Atmosphere who gave some insight about the company and its investment in IIDA Northland.
How Long Has Atmosphere Supported IIDA Northland?
How long exactly has Atmosphere been a sponsor of IIDA Northland? The answer would be… "Years and years and years". Atmosphere has been a sponsor going back almost as far as the group itself, and starting this 2018 they went from being a Platinum Sponsor to a Diamond Sponsor.
A Little Background…
In 1953, Dayton's Commercial Interiors began to operate independently from the Dayton company, and then in 1964, they became an authorized Steelcase dealership. In 2004, they changed their name to Target Commercial Interiors and continued to expand into the Midwest and through the Southwest. They are now under the parent company of Omni Workspace/ A&M Business Interior Services, and in 2015 they changed their name to what we now know as-Atmosphere Commercial Interiors. This past year, their Minneapolis office was remodeled into their Minneapolis #WORKLAB, an amazing space in which they have already hosted a number of events!
Why Atmosphere
"We enlighten organizations to the connection between people, purpose, and place™, because leading through purpose is critical for engagement, customer loyalty and growth.
When people in an organization align around a shared purpose, it will ignite a passion and engagement in a way that drives business forward.
We believe that space is the body language of your organization, and conveys your purpose.
Connect with our team to discover, plan, and deliver the right solution for your space and your organization."
Thoughts from a Current Employee
https://www.instagram.com/p/BZC078lBYX9/?taken-by=atmosphere_ci
"We are a really collaborative team that works closely with a client to choose the best furnishings and fit that we can for each product. We offer a collaborative environment to work and bring visions to reality, while delivering spaces clients love."
Innovations at Atmosphere
https://www.instagram.com/p/Bf1lcnOnIs2/?taken-by=atmosphere_ci
A new resource Atmosphere has begun to embrace is space analytics, which Atmopshere has applied in their new space as a way to share insights with the design community. Through their extensive showroom remodel last year and the application of this technology, they created a better work environment for employees and were able to show its innovations to clients. This has introduced additional value as a key element of understanding space, both in their office and for clients. Also integrated into their new remodel is an innovation center, which they will continually renovate t0 bring in new concepts. It offers a sort of testing ground for clients and the A+D community to learn and use new products and see new ideas.
Highlights with IIDA Northland
Vision 2017 Breakfast- Wonderful event to sponsor, with an incredible speaker.
Fusion 2017- Great shake up this year with new Fusion+ event, such a treat to see everyone come together for a new creative project!
Pique 2017- Hosted students in the space for Pique with a brand new showroom. It was exciting to see how students reacted to the space, and to hear their long term goals and their status as students.
Why Support IIDA Northland?
"We became a Diamond Sponsor because of the value we see in IIDA Northland."
With their continuous acts to give back, and as such a strong asset to the community, this justified the Diamond Level Sponsorship for Atmosphere Commercial Interiors. Many employees and clients from Atmosphere are internally involved in events and committees. As a company, they "feel strongly about the impact the events, programs, and support IIDA Northland brings to the community". Not only is it a great resource for education, but also to connect with the industry and have some fun while they're at it. This is especially true for new members and students as IIDA Northland offers a great introduction into the surrounding community and it's professionals.
Emily Degallier – Interior Designer